of
Pinoy

businesses on Roosevelt Avenue in Queens
.
While most Filipino immigrants in the US are based in California, a big chunk of
Pinoys
work and live in New York City.
To hell with frigid winters, this is the Big Apple of our
chinky
brown eyes!
According to the
Asian American Federation of New York
, there are 75,352
Pinoys
in the city based on a 2005-2007 survey, 60% of which is in the borough of Queens where I reside. This makes us the fourth largest Asian group in the entire city. In my apartment building, there are several of us
Pinoys
living on different floors along with other immigrants which makes a veritable United Nations of "
where are you originally fr
om?
".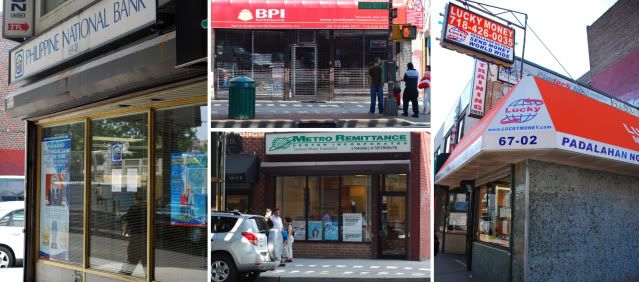 When it comes to business,
Pinoys
have made its presence felt in Queens - in
Woodside
particularly. On a stretch of Roosevelt Avenue underneath the elevated tracks of the No. 7 train,
Pinoy
businesses have thrived to serve the needs of
kababayans
. Restaurants, remittance centers, immigration services, video rentals, medical/dental clinics, cargo forwarders, beauty salons and a grocery store are all here. Saturdays and Sundays are usually the busiest:
Ihawan

, Krystal's Cafe, Renee's Kitchenette and

Perlas

Ng

Silangan

are invaded by whole families gathered for a feast.

Phil-Am Food Mart is packed with people carrying grocery lists that might include

Jufran

Banana Ketchup,

Selecta

Ice Cream and

Hakone

Sardines.

Johnny Air Cargo is brimming with

Balibayan

boxes waiting for delivery to excited relatives in the Philippines.

Kulay

at

Gupit

has

Pinays

waiting for a haircut and a makeover.

It doesn't take much time to see what's goes on here. As I roam around, all that frenetic activity and the twitter of a familiar language takes me back on a little trip to the Philippines. Even if it's just in . . . Queens.

Jollibee's

arrival in the East Coast last February was met
with a lot
of hungry stomachs homesick for Chicken Joy.
Even
US-born kids are now introduced to the Philippines'
largest fast food chain by moms and dads who grew up with it.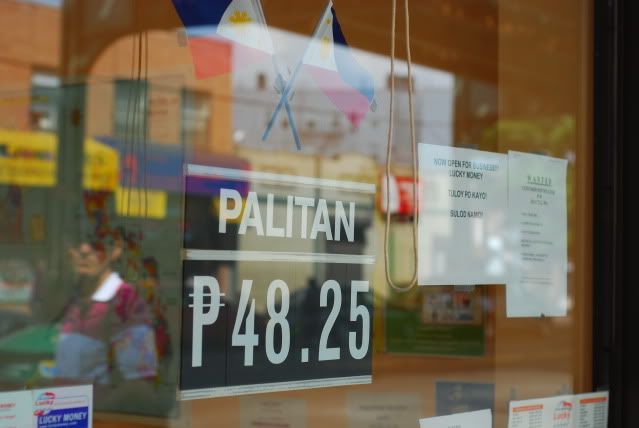 Exchange rate is checked at a local remittance center before
sending
money
back home. According to

Bangko

Sentral

Ng

Pilipinas

,
US-based Filipinos
sent $7.8 billion in 2008 which, together
with remittances from Overseas Filipino Workers elsewhere,
helped fuel a rise in middle class families in the Philippines.
A stack of free community newspapers help disseminate information.
On the post are notices for services and rooms-for-rent. Some Filipinos

sublet their apartments to generate extra income and help pay bills.

According to the Asian American Federation of New York,
the median income of Filipino
households in NY is $78,075.

to a flight back home, customers of Phil-Am Food Mart
content themselves buying familiar grocery items.