"Wrong way!"
one of our river guides hollered. Sonny, one of my friends who joined me in this day trip to upstate New York, kayaked way ahead of us, thinking our day in the
Hudson River
was about to end and he decided to paddle back to where we started 3 hours ago.
"We're still going to the

Moodna

Creek"
, Paul said. He's one of the guides and he knows the ebbs and flows of the river like the back of his weathered hands. My butt is getting sore sitting on the kayak and my arms already feel like rebelling but my adventurous brain wanted to follow the leader.
"OK, let's go"
, I muttered.
"I'm loaded with memory cards"
. Somewhere in my seat is a small digital point-and-shoot, wrapped in a Ziploc bag - the only camera I can afford to risk. No
DSLR
on this trip.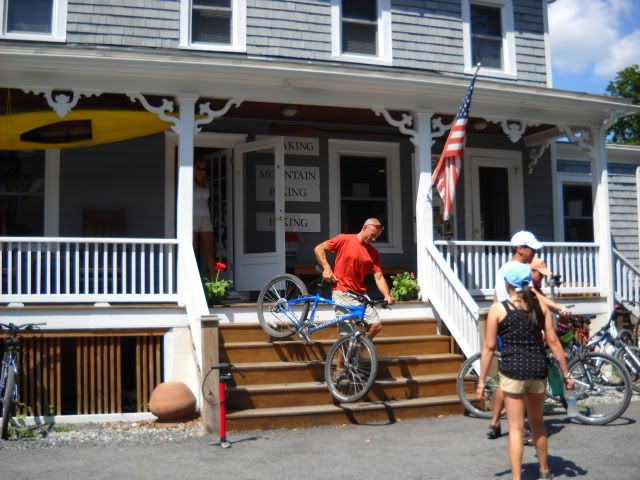 STORM KING ADVENTURES


It's been a long day sitting on our arse actually. It started this morning with an hour-long Metro North train ride from Grand Central Terminal where I met up with Sonny and other friends I've invited: Tatum, Jenny and Jackie. Our destination is the quaint village of Cornwall-on-the-Hudson where our outfitter,
Storm King Adventures
(
SKAT
), is based. Named after the looming mountain just nearby,
SKAT
offers a trinity of outdoor pursuits: kayaking, mountain biking and hiking. At the Beacon train station, a yellow school bus (oh boy, do I feel young again?) was waiting for us and brought our group and some other adventurers directly to
SKAT
headquarters. The office is full of outdoor equipment yet feels so homey.
As
pre
-arranged, our little group is doing some biking first - though not into the mountains. Candy, a 40-something-who-looks-half-her-age, was our guide. After a quick check on our bikes and a little tutorial on gear shifts, we
pedaled
right away on asphalt roads. It's
backcountry
all around us, lots of trees and lo and behold, a deer appeared for our very first wildlife encounter outside of the Bronx Zoo. The incline wasn't dramatically steep yet I kept fiddling with the gear shift, trying to figure what works well with my inexperienced legs. Candy kept looking back at us as if to say
"move on!"
- we're obviously not made for Tour-
de
-France! Never mind, it was all downhill after that. The rush of air unto my face fueled my excitement all the more.
DEER, OH DEAR!


We passed by the main road of Cornwall with it's white-washed houses and art galleries. Candy brought us to one of the restaurants for lunch. We sat outside and enjoyed locally grown produce, including a very refreshing Blue Berry Lemonade. Even the hamburger I was served was from a hormone-free beef. I'm not surprised: Cornwall, with a population of less than 4,000, is part of the Orange County in upstate New York where plenty of nearby farming communities are located. Many of the produce ends up in the lively
fa
rmer's

market a
t t
he
Un
ion S
quare
.
After
carbo
-loading ourselves, we biked back to
SKAT
headquarters. A pick-up truck brought us to the Cornwall Landing where our kayaking trip will start. There were groups of other people already waiting. While handing us our paddles and vests, Paul and Brian introduced themselves as the guides, both
NYS
-licensed. Paul tutored us on the basics of paddling and what to do in case one of us goes overboard. We each had a kayak except for Jenny and Jackie who went tandem. Once in the water, we're on our own, paddling away, with the huge hump of the Storm King mountain right in front of us.
2009 is a momentous year for the Hudson river. 400 years ago, in September 1609, the British sailor Henry Hudson sailed from the New York Bay into the river that was to bear his name. Commissioned by the Dutch East India Company, he was in search of a northwest passage to Asia. His quest may have been a failure but his name endured, having led the first Europeans to sail up the river, sailing all the way close to what is now known as Albany, New York's state capital.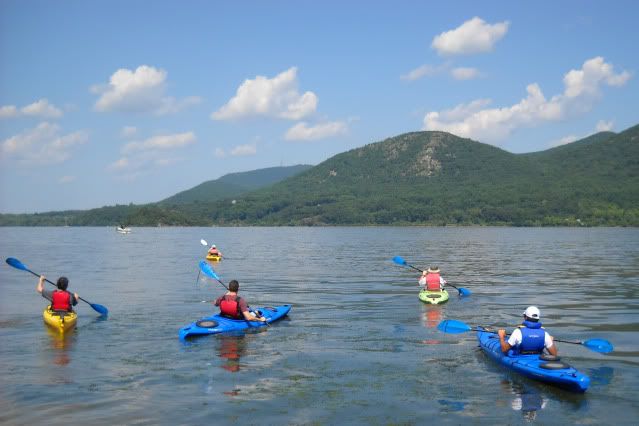 Today, we're only tackling a portion of the river and it looks like a huge task already, at least as far as our arms are concerned. We paddled upriver, stopping every now and then, grateful that motorized boats and jets skis were far away from us. Despite the water being calm, one guy lost his balance and his kayak overturned. Quickly, one of the guides came to his aid.
"The water is clean, despite what you guys have heard"
, Paul reassured us.
"You can swim if you like."
That didn't do much to dispel a doubting Tatum. Not even if the afternoon sun is roasting us. A few of the guys did go into the water to cool off. But what's better was stopping by a secluded cove to stretch our legs, hid under a shade and rest our arms a bit.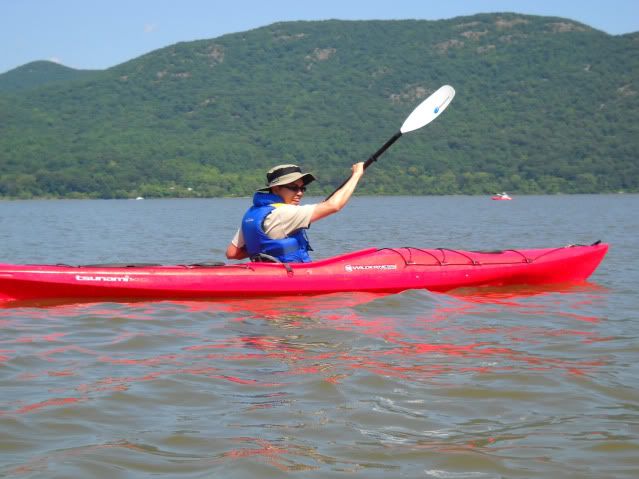 We took the kayaks to the water once more. Some of us thought we're heading back. Paul had earlier told us of the possibility of extending our trip to the
Moodna
Creek depending on the tides. As luck would have it, the water is deep enough for us to navigate past the bridge into this tidal marsh with is unique flora and fauna. The water is so quiet and still it's almost like glass . . . until our kayaks broke the stillness. Brian talked a bit of history and folklore associated with the creek, citing its original name "Murderer's Creek" as a sign that we shouldn't stay long here.