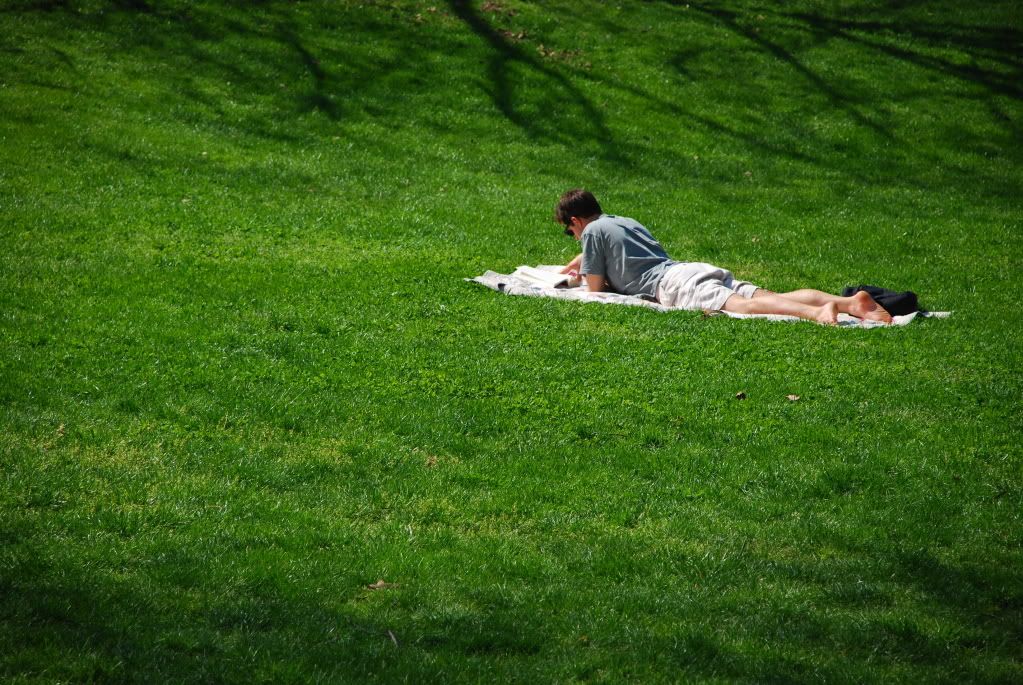 THE GREEN, GREEN GRASS OF CENTRAL PARK

A brilliant, sunny Sunday brought many New Yorkers and tourists a little bit
away
from the concrete jungle of the city to the greenest patch of land there is in Manhattan. Where else but
Central Park
? This is the park where numerous movie scenes were filmed, from
Home Alone 2: Lost In New York
(where Macaulay Culkin runs away from his enemies into the
Bethesda Terrace
) to
The Devil Wears Prada
(where a photo shoot was done at the
bridge in the Pond
). With an area covering 843 acres of woodlands and lawns stretching from 59th Street to 110th Street, there's certainly a whole lot of space for everyone, even for those not into movie making. Today is especially important as Central Park celebrates
Earth Day
.
Before joining the festivities at the park, we watched the new movie
Earth
at the AMC Theater in Times Square as it opened at 10 AM. We only paid $6 (as opposed to the regular $11) since it's the first showing of the day. Produced by DisneyNature with BBC,
Earth
is a gorgeously shot documentary following the migratory lives of three animal families as they go through the ever-changing seasons of the planet in their quest for survival: the Arctic polar bears, the African elephants in the Kalahari desert and the humpback whales of the oceans. Narrated by James Earl Jones, jaw-dropping scenes take place in various locations around the planet and the drama unfolding infront of the armchair is driven all the more by George Fenton's soaring music. Even if I've already seen some of the scenes from BBC's Planet Earth series, everything comes fresh and haunting in the big screen. It's really a $6 well-spent especially since Disney promises to plant a tree for every ticket bought during opening week.
After watching the movie celebrating earth life, we went to the park where Earth Day is celebrated. We entered Central Park through the
Strawberry Fields
at 72nd Street. A memorial to John Lennon's timeless
Imagine
greets everyone. This spot after all is so close to where John was killed many years ago. Today however, most people hurried with their own agenda - many lugging their picnic baskets towards the Sheep Meadow, while the active set have a plethora of things to do:
roller-blading
,
jogging
,
baseball
,
Frisbee
,
volleyball
,
biking
and
rowing
. Even the
disabled
has a field day today! Some were content just lazing around
reading a book
or people watching . Others were more inspired to show their talents
here
and
here
. Whole families also came for a picnic, bringing the
young ones
and the four-legged ones. Tourists of course never miss a must-do ride with the
ho
rse-drawn carriage
.
Central Park's Earth Day celebration is part of the weeklong activities in New York. Many performances were scheduled at the Central Park Bandshell and one of them was singing Earth-friendly songs as we arrived: the kid entertainer
Billy B
. There were many stalls about
environmental education
and crafts using recycled materials. There were planting and mulching projects for willing volunteers. And best of all, there was this brilliant stationary bike that powers a blender. A fruit smoothie does taste better when you really work hard for it. Here's a toast of a banana-and-strawberry smoothie I made myself to Planet Earth!