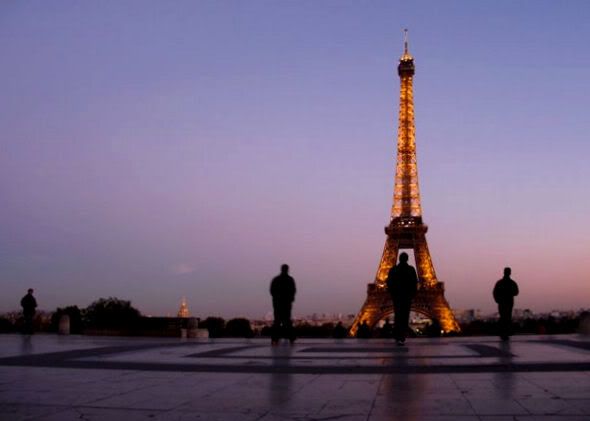 It's time to hit the "must-sees" of Paris. First on the line is
Tour Eiffel
(ok, it's Eiffel tower for those of us who are not French). I couldn't contain my excitement as soon as I saw the towering behemoth piercing the early morning skyline of Paris. This that I saw only in movies and coffee table books is now standing gracefully before me - I'm awed. I felt so little standing underneath it.
We took the elevator all the way to the 3rd level, the highest point of the tower. The view from up there is marvellous. I'm glad we made it much earlier to the top of the tower as there were not much crowd to distract our view of Paris.
As soon as we went down, we felt hungry and what else could better satisfy our morning cravings for a good breakfast than crepe - as French as croissant to those with Gallic taste buds. My crepe was dabbed with chocolate Nutella and garnished with bananas.
C'est si bon!
We took the Metro to the
Notre Dame Cathedral
, our next destination. I b
egan to imagine Victor Hugo's hunchback character somewhere among the crowd of tourists. Notre Dame is immense, dimly lit probably just like what it was in the medieval ages. I tried to comprehend its rich history as this magnificent structure has been a mute witness of the changes that Paris went through in the many centuries that passed. If only the stones could speak as I gingerly touch and feel them, walking slowly in hushed silence, ever reverential to its importance among Parisians.
Sonny had to go ahead and meet up with Bong so they could prepare our dinner at the latter's apartment in Bastille. Ate Emma, Leah and I took a leisurely walk along the banks of the river Seine, crossing
Pont Neuf
, the oldest bridge in Paris. After walking for several minutes, we managed to find the
Louvre Museum
through the Passage Richelieu. I knew we made it as I saw the famous glass pyramids designed by I.M. Pei.
The Louvre is a vast repository with e
nough collection to keep an art connoisseur busy. Of course, I had to see Mona Lisa, that woman so talked about because of her mysterious smile. When I finally came face to face with Leonardo da Vinci's masterpiece, I thought the painting looked smaller than I have imagined. I guess it's the painting's larger-than-life stature that has made many to anticipate an equally larger size. I couldn't help feeling the goose pimples though as I slowly absorb the beauty of this classic star.
Two other notable pieces we saw at the Louvre were
"The Winged Victory of Samothrace"
and the incomparable
"Venus de Milo"
. The feminine curvature of Venus is strikingly life-like that even without her hands, her delicate pose commands immediate attention.
After recharging ourselves at the museum's coffee shop, we gathered what's left of our energy to visit Bong Tejeda's Parisian dig for dinner.